Studded with all new definitions , Salman has draped off his "prem"i avatar and is resolute to set everything ablaze.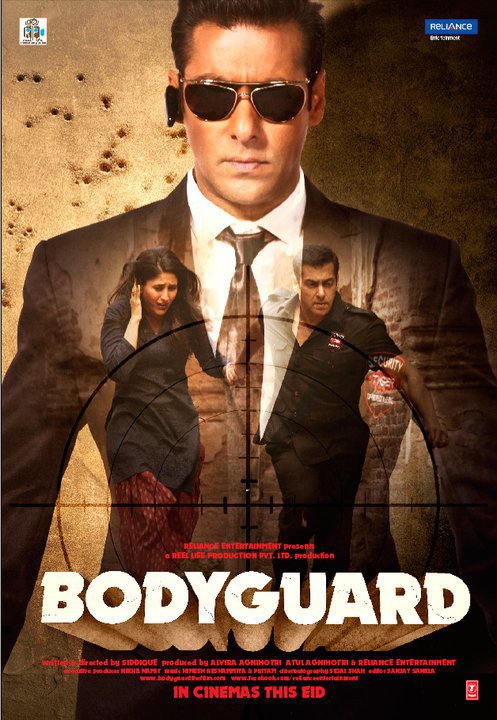 From "Radhey"of wanted in 2009 to "Chulbul pandey" of Dabangg in 2010 and this time finally being "Lovely singh"; this "Sanam bewafa prem" is back on this B-town's silver screento set it on fire and gallop the masses to the "bada parda".Releasing this EID on August 31st,2011 Salman Khan and "bebo" have a perfect recipe to lure the audience and make a huge collection on the box-office.
Directed by Arman Sidique and producedby Atul Agnihotri under Rrrl life productions and Reliance entertainment banners,Salman's "Bodyguard" is a inspired story from "Shera"-the real protagonist of Sallu's life; i.e; his original "Bodyguard"."Salman has seen Shera from years safeguarding and shielding him and so he approached for the script of "Bodyguard";says a source.
Played by Kareena Kapoor as "Priya" and very own Salman Khan as "Lovely singh"; Bodyguard has high expectations. Bodyguard is a hindi romantic action movie with "bharpor masala" and a remake of 2010 Malyalam movie with the same title. It's Tamil remake was "Kavalam". Since both Malyalam and Tamil versions were the great hits of their times,so same are the hopes with the hindi remake.The B-town has been evident to the fact that the south remakes from "Kollywood" in the "Bollywod" have successfully notched the zenith.
The movie is fully and entirely canoped with the aura, charm and charismatic personality of Salman Khan. Flooded with "tabadtod" dialogues and clamouring actions ,Bodyguard trailers have touched the marks of glory and all signs of increasing enthusiasm. Studded with all new definitions , Salman has draped off his "prem"i avatar and is resolute to set everything ablaze.
The music of Bodyguard has in it to be hugely popular amongst audience as it has everything for everyone. Created by HImesh Reshammiya and Pritam ,the music of Bodyguard is for all. For the lovers of conventional music , there is "Desi beats" while for Salman's fans , Bodyguard has its own title track. For those lovers who linger boasts ofromanticism , there is "I Love you" which soaks our souls in the candid spirit of love .
It would be a splendid suspense to watch out whether this "EID ka chand" will shower all its love on him alike Wanted and Dabangg or this Jodi of Salman "Salim" khan with Kareena will once again fail as before like that of "Main aur Mrs.Khanna" and "Kyun-ki.."!!